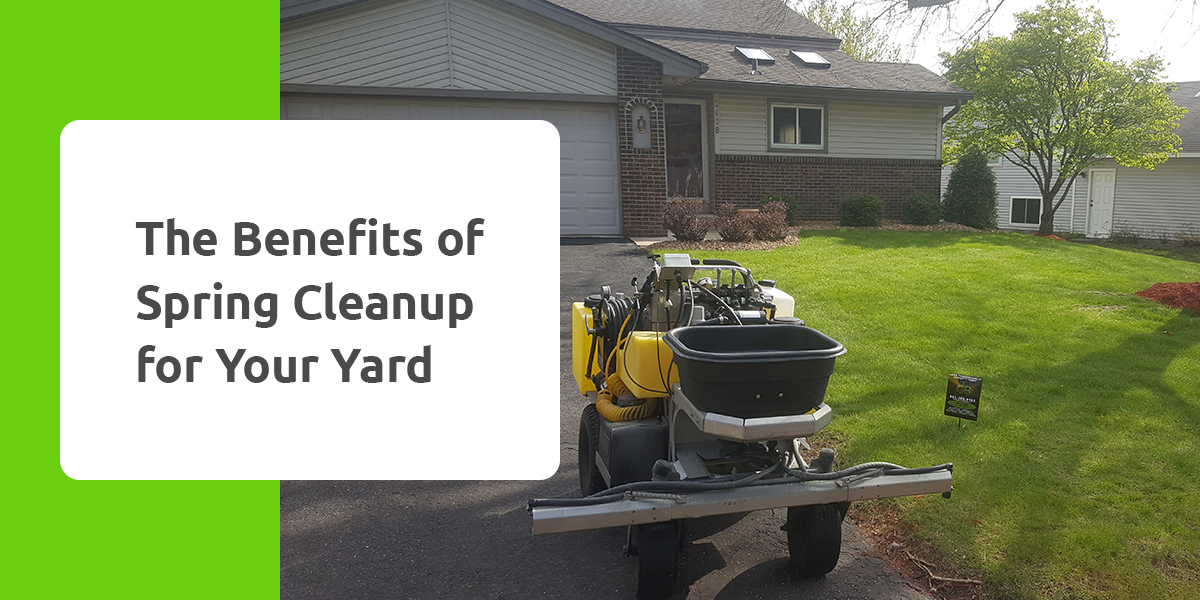 It can be challenging to care for your lawn during the cold months. Over the winter, dirt, moisture, and debris pile up on your lawn. These elements can turn healthy greenery into a difficult-to-manage plot of land. Conducting a spring cleanup once the snow melts for the season ensures your yard is in great condition for the warm weather.
Check out why spring cleanup is vital for your lawn and how the experts at Green & Black can help.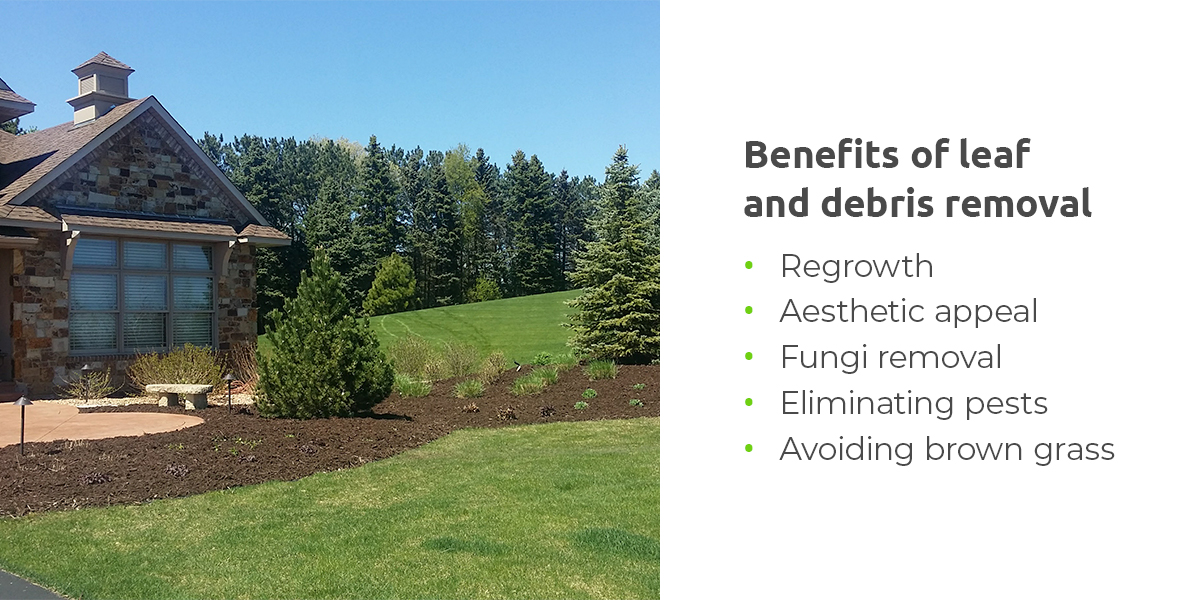 Leaf and Debris Removal
Cleaning your yard of leaves and debris will make it look better and promote healthy growth for your grass and other plants. When your lawn has too many leaves or debris, sunlight can't reach the ground underneath. These elements prevent your landscaping from getting the nutrients that it needs to thrive.
Benefits of leaf and debris removal include:
Regrowth: A clean lawn allows your grass and other plants to soak up nutrients from the sun that they need to survive. Your greenery will also be better able to access water and grow uninhibited.
Aesthetic appeal: A fresh lawn clear of debris looks much nicer than the alternative. Most people love the sight of a lush patch of well-kept greenery — a beautiful yard can make any property look that much nicer. It improves curb appeal and shows your effort in caring for your property.
Fungi removal: Wet leaves collect moisture that weighs down your grass and allows for mold and fungi buildup. An extensive collection of wet leaves can result in toxic spores being released into the air when you walk through them, which is harmful to you and your yard.
Eliminating pests: Spiders, snakes, and other troublesome insects and pests like to nest under leaves for warmth. By removing leaves and other forms of debris, you can reduce the chance of pests hiding on your lawn and potentially entering your home.
Avoiding brown grass: The buildup of decaying plant matter from the winter can affect your grass by causing it to stop growing. Rather than growing in the ground, it'll remain above the soil, which leaves you with brown dead grass on the surface of your lawn. Removing this layer will improve the visual condition of your property and promote healthy growth.
A spring cleaning service with Green & Black will involve clearing all outdoor common areas of debris. We use rakes and blowers to remove leaves, branches, and everything else that winter has left behind. We'll also make sure to dispose of any trash that may have been left on your property over the winter. Green & Black ensures all debris is disposed of off-site in a dumping location so that you can feel confident your property is completely clean when we're finished.
Transitioning From Winter
Spring cleanup is the perfect opportunity to get your lawn ready for the upcoming summer. Fresh grass will set the tone for the next few months, and knowing how to take care of your lawn can significantly affect the outcome.
You can begin your lawn cleanup when the winter frost melts away by raking the thawed ground. The organic matter, like the dead grass lying on top of your soil, is called thatch. The dethatching process involves power raking and loosening vegetation to remove this material, promoting healthier grass growth. Doing so will help get rid of any dead grass and enable you to identify places you may need to give extra attention.
If you didn't apply any fertilizer in the fall, this would be a great time to do so. Giving your yard a light coating of fertilizer will help to kickstart healthy growth. At the same time, you could also use an herbicide to prevent weeds from overtaking your lawn. Our fertilization process is seven steps, beginning in April or May and ending in September or October.
Green & Black can help make sure your landscaping is set up for growth following winter. We'll be able to look at your lawn's condition and determine the best course of action. We'll rake, blow, and remove debris from the property, including around buildings and under decks where applicable.
Additional Lawn Care Services
Your lawn needs proper care year-round. At the same time as you plan for your spring cleanup, you can also prepare for the upcoming seasons. Green & Black provides service in Minnesota during every season to meet all of your lawn care needs.
Lawn services from Green & Black include:
Mowing: Regular mowing helps to reduce pest presence, provide nutrients, increase curb appeal, and build resilience from harsh weather. While you can cut your grass yourself, most people don't know how high to cut their grass to keep it healthy. At the appropriate length, grass can become more robust, and the healthy blades will flourish. We can ensure your grass is cut to the proper length to keep it thriving.
Aeration: Aeration can be done alongside your spring cleanup if your lawn is heavily compacted. By loosening the soil, nutrients and water can reach plant roots, helping them grow in the coming months.
Bush hogging: If you have heavy brush you need to remove from a large plot of land, you could benefit from bush hogging. This process helps with weed management, property appeal, and biodiversity.
Green & Black is prepared to help you keep your lawn healthy and clean all year. You can request regular maintenance services or schedule an annual season cleanup. On top of our spring cleanup, we also offer fall cleanup services to keep your property looking great and healthy for the cold months that follow.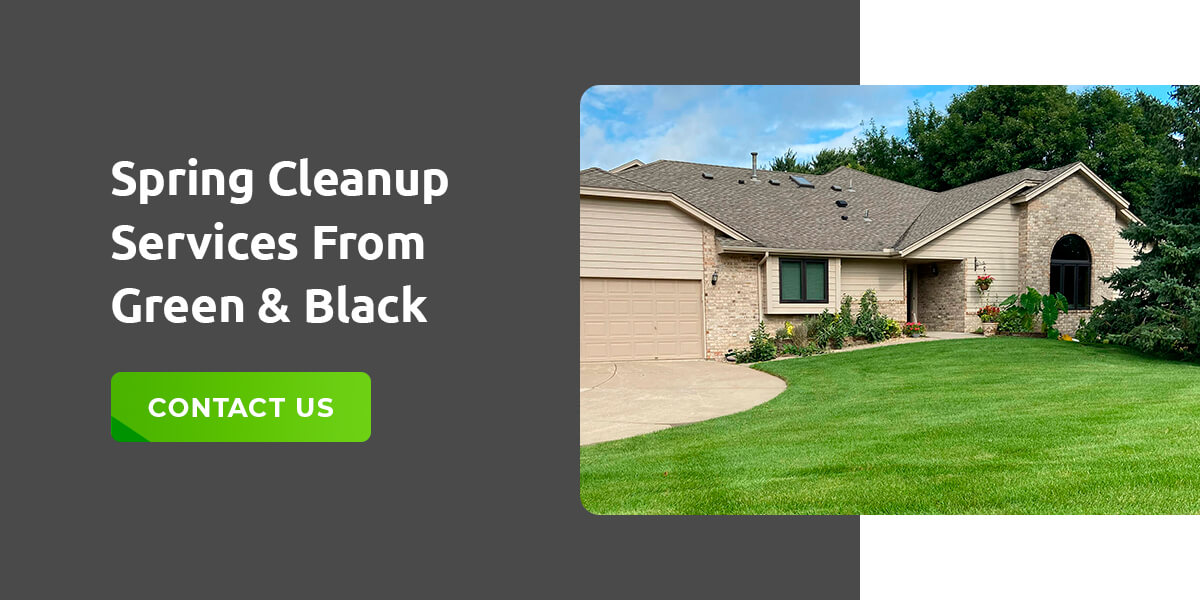 Spring Cleanup Services From Green & Black
Green & Black is family-owned and proud to serve many communities in Minnesota. Since 2010, our company has grown from a single-person operation to a team of almost 30 experienced, friendly, and professional individuals.
Our team members have in-depth knowledge about lawn care, trucking, and snow removal, so you know that when you contact us for a service, you're getting top-notch, quality work. We use state-of-the-art equipment for all of our services to ensure we provide you with an exceptional experience.
For property maintenance and spring lawn cleanup, contact us at Green & Black to transform your lawn. We'll give you a free quote and offer ongoing and annual services, so your property will thrive for the seasons to come. We look forward to working with you.