Ice Management Services
When you live and work in Minnesota, you can expect to deal with ice during the winter. Icy conditions are commonplace across the state, where wintry temperatures can quickly plummet to well below freezing.
As a commercial property owner, you want to deal with ice as little as possible. Though no one can change the weather, Green & Black can help you with all your ice management needs.
For decades, our company has brought clients customized property maintenance and snow-related solutions, including ice management. Reduce your liability risk and make your property safer for drivers and pedestrians with our help.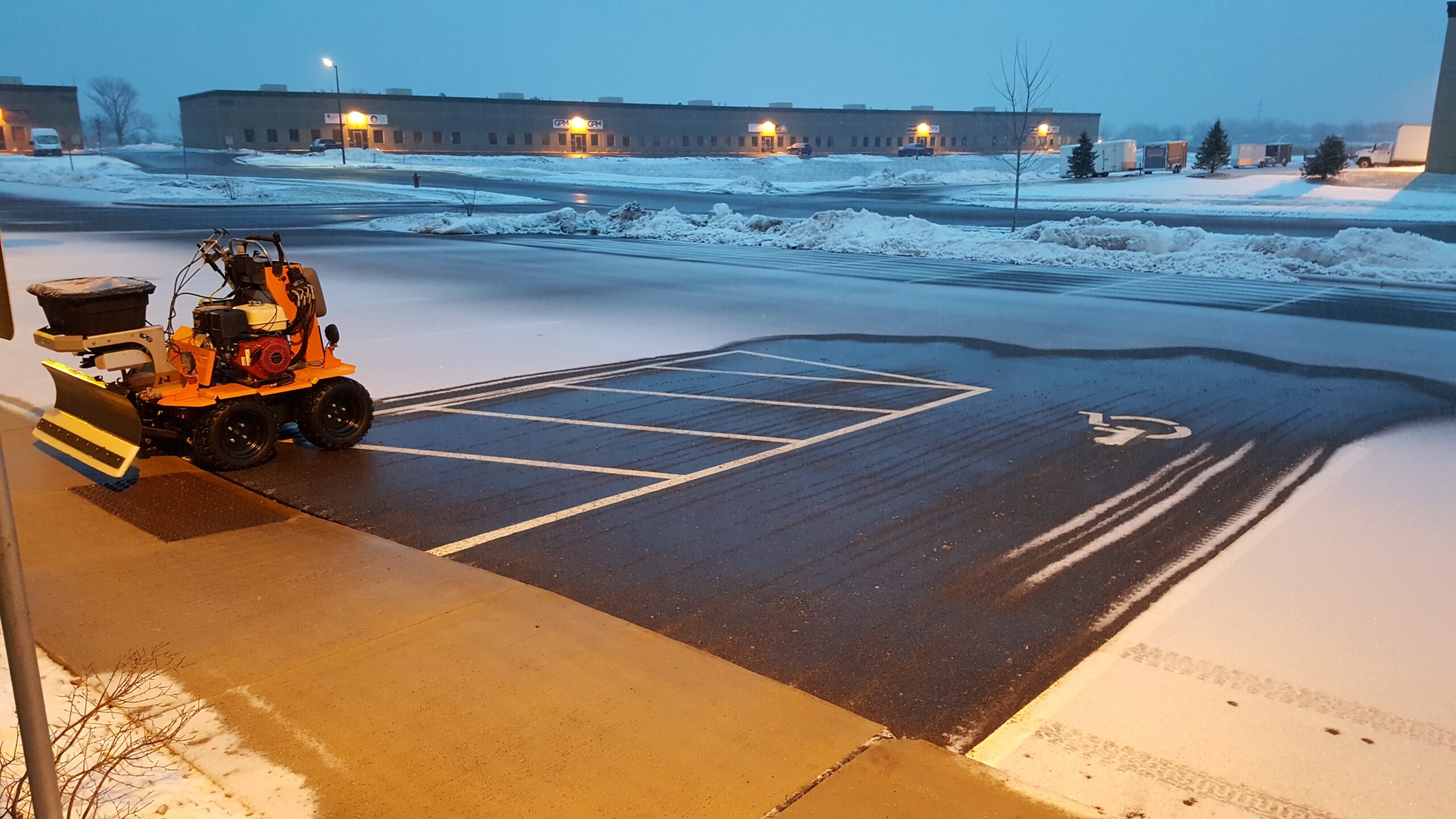 How Ice Management Services Work
Ice management is a subset of Green & Black snow removal services. Our goal is to prevent ice buildup from happening. Alternatively, we can intervene once ice has already affected surfaces like driveways, parking lots and building worksites.
We can leverage multiple types of salt options depending upon your situation and needs. These include laying granular bulk salt, bulk treated salt or brine.
Granular Bulk Salt for Ice Management
In temperatures of around 18 degrees Fahrenheit and above, bulk white salt works well for treating surfaces. Our team members scatter the salt judiciously onto surfaces and allow it to do its job. We take great satisfaction in determining exactly the right amount of salt needed to minimize ice buildup on your property.
Bulk Treated Salt for Ice Management
When the temperatures dip precipitously, our ice management team will use bulk Ice B'Gone (IBG) products. IBG works even in minus 35-degree weather to prevent both snow and ice accumulation.
IBG is environmentally friendly because it's up to 85% less corrosive than standard white rock salt and safer for humans, pets and plants. This characteristic allows you to save more money on everything from janitorial expenses to wear and tear on parking signs, concrete walkways and door frames.
Brine for Ice Management
The third option we rely upon for ice management is brine, which is a salt-based liquid. When laid down as a pretreatment, brine prevents the snow from bonding to the pavement. As a bonus, brine can alleviate snow removal headaches by streamlining the process. Without ice and snow sticking to the road or concrete, snow plowing and shoveling becomes faster and easier.
Superior Ice Management Equipment, Tools and Protocols
All the services we offer are thoughtfully performed, and the same applies when we choose our equipment. We rely upon state-of-the-art GPS-outfitted vehicles and products to ensure we can meet and exceed your expectations. Additionally, we use advanced software to help track storms, map out efficient ice management routes and use only as much salt or brine as necessary to lessen environmental impacts.
Choose Ice Management Systems From Green & Black LLC in Minnesota
Why deal with ice when you don't have to? Get in touch with an ice management company like Green & Black to discuss your ice management needs. If you need snow removal and snow hauling, we can handle these services as well.