Trucking and Hauling
When it comes to construction management, there's a lot of essential equipment needed to get the job done. Most big construction tasks require trucks to deliver and transport your materials. When performing construction projects amongst a small team, it can be expensive to secure the amount of trucks you need. That's why you can benefit from working with a trucking company in Minnesota, that you can trust.
When you hire Green & Black LLC for hauling services, our skilled and passionate workers will expertly maintain your property while securing the trucks necessary for the job. We make construction projects easy with our convenient trucking services.
Trucking Services in Minnesota
At Green & Black, we have the equipment necessary to take on any construction job, no matter the size. Whether you need to remove snow from your parking lot or haul rubble from the job site, we'll provide you with the trucks you need to get it done. We have access to seven dump trucks equipped to tackle various construction tasks with ease so you can get your property in order as quickly and efficiently as possible.
Our Hauling Process
We make material transportation simple with our hauling services. When you request our construction vehicles, we'll evaluate the nature of your property's maintenance job and determine how many trucks you'll need for the service. Then, we secure your trucks, transport them to your commercial property and get to work.
Our Trucks
Our vehicles are durable and efficient, making them perfect for even the biggest and toughest tasks.
When you book trucking services in the south metro area of Minnesota, Green & Black will provide you with the vehicles you need to help with practically any property maintenance job. Our fleet can carry even the heaviest materials, including:
Dirt.
Salt.
Snow.
Large rocks.
Boulders.
Sand.
Rubble.
Gravel.
Fertilizer.
Demolition Debris.
Asphalt.
Contaminated materials.
Benefits of Trucking Services
When you hire a trusted trucking company such as Green & Black, your property maintenance experience will ultimately be smoother, faster and generally hassle-free. With a fleet of construction vehicles on your side, there's no limit to the jobs you can perform.
Hauling services solve these issues for both commercial and residential property owners:
Lack of proper equipment: If you have a necessary maintenance job to do but don't have the proper equipment, trucking services will provide you with all the resources you need to perform tasks you couldn't complete otherwise.
Physical limitations: Individuals with mobility restrictions can have difficulties moving heavy materials and objects on their property. A fleet of trucks at your aid ensures that you can perform tasks safely and efficiently.
Heavy loads: Construction vehicles are equipped to lift and transport even the heaviest materials, easing the overall maintenance process.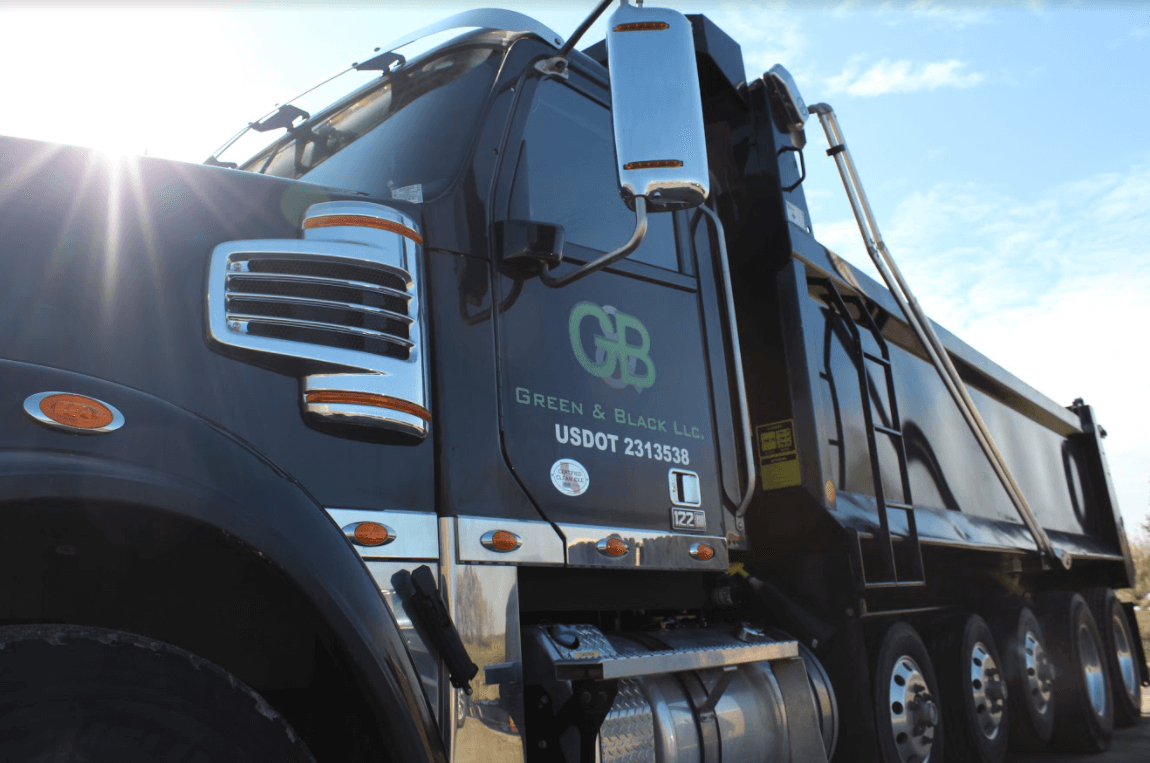 Hire Our Trucking Company in Minnesota Today
If you want to work with one of the best trucking companies in Minnesota, look no further than Green & Black. Contact us to schedule your truck today.
CONTACT US