Snow Hauling in Minnesota
After a snowfall in Minnesota, your landscape will look pristine and fresh. However, you don't necessarily want to keep the snow around for days. You probably want to hire a professional commercial snow removal service company to make it disappear.
At Green & Black, we offer several snow removal services to ensure your property is shoveled and cleared. Additionally, we provide snow hauling as an extension of our menu lineup. If you're interested in learning more about how our snow haul-away process can work for your business, keep reading.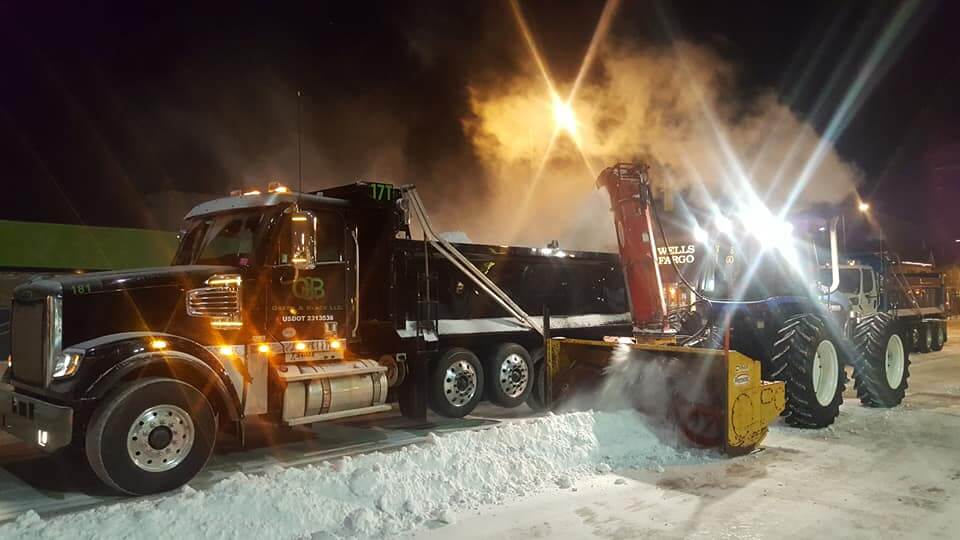 Why Choose Snow Hauling Services?
As an adjunct service to snow removal, snow hauling lets you completely get rid of snow after it's been moved off of driveways, parking lots and other exterior surfaces. Without snow hauling, you could be left with huge mountains of snow. These can become eyesores and create safety problems.
For instance, drivers often find it difficult to navigate or see around large piles of snow due to poor visibility. As the snow mountains melt, they can lead to ice formation. If a pedestrian slips and falls on the ice, you could be held liable.
To reduce your risk and remove unsightly snow piles, consider hiring a snow hauling company after snow removal. It's a fast, efficient process that will leave your property looking less cluttered and much cleaner, even after major snowstorms.
Benefits of Green & Black Professional Snow Hauling Services
Choosing the right snow removal company can mean the difference between knowing you're covered after a winter weather event and wondering how you'll clean up effectively. At Green & Black, our snow hauling processes aim to give you a dependable experience:
We own several modern dump trucks: Green & Black employs numerous dump trucks for our jobs — more than most other companies. Instead of pushing snow to the side, we can rely on our quads and quints to take your snow to a separate location and properly dispose of it.
We have a dedicated site where we dump all our customers' snow: You don't have to worry about where your snow is going or whether we'll have room for it, which removes the stress of keeping it on your own property.
We allow you to decide when you want snow hauling: You can opt into this specialized snow removal service at any time. However, you don't have to always have your snow piles removed. Some customers prefer to wait and see how much snow accumulates before requesting full snow removal. Others tell us upfront what their snow removal "trigger criteria" is so we can take action quickly.
We can load a full-size dump truck in under a minute: As you might imagine, this makes us extremely efficient and saves you money on snow hauling services.
Hire Snow Hauling Services in Minnesota
Whether you have a tight parking lot without much available space for snow mountains or just want a cleaner landscape after a small or massive snow removal job, Green & Black can help.
Get a free quote on snow removal, including snow hauling. Need ice management, too? We're happy to help you control ice buildup using the most professional methods and products available.