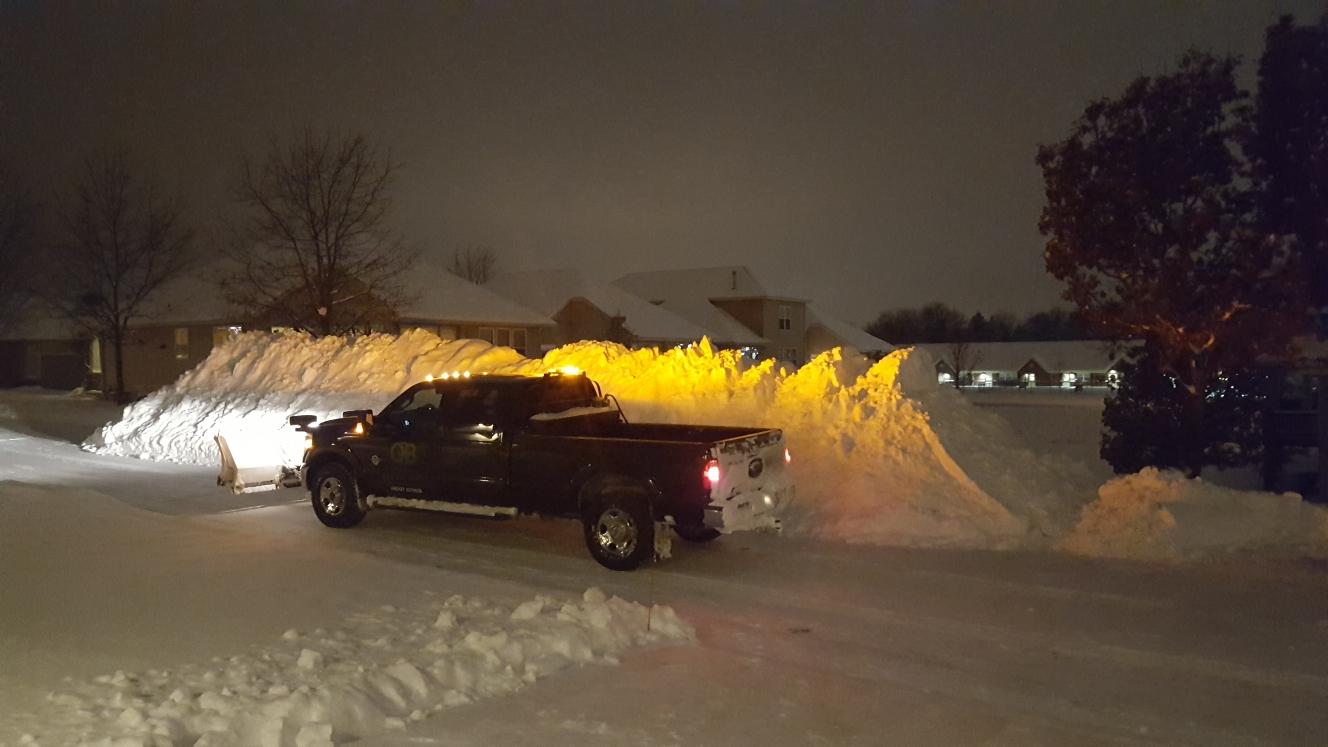 Snow Plowing Services
When snow falls in Minnesota and the temperatures dip below freezing, you need a reliable residential or commercial snow plowing company to handle your snow removal needs. Otherwise, you can quickly end up with an abundance of snow, slush, and ice in your parking lot, along your walkways, or around your site or office building.
Green & Black specializes in various snow plowing services ideally suited to tackle even the harshest winter conditions. Our team offers emergency snow removal services. Our 24/7 responses 365 days a year allows you to feel less worried and more prepared when you know a snow event is heading your way.
Learn more about what makes our snow plowing different by checking out our unique advantages below.
Our Residential and Commercial Snow Plowing Benefits
Why choose Green & Black as your preferred snow plowing company? Aside from being in the business of providing top-notch service for nearly 90 years, we've been highly rated by satisfied customers for the following benefits:
We use tractors and front-end loaders outfitted with Metal Pless LiveEdge plows and snow tires: Metal Pless plows have been brilliantly engineered to shovel more snow than competitors' models. By choosing top-end equipment and accessories, we can give you a better, faster snow removal experience.
We use an array of modern, reliable tools: That's why you'll see our crews using tractors, loaders, trucks, skid loaders and other vehicles equipped with efficient snow tires. We choose the right type of equipment for your custom job to increase our efficiency. No snow plowing assignment is insurmountable for our team because we're outfitted for success.
We send supervisors around to monitor crews and site conditions: By sending supervisors out during and after snow and ice events, our attention to detail allows us to stay on top of what's happening and ensure you're getting the results you expect.
We carefully schedule our snow plowing services to maximize effectiveness: By leveraging the most sophisticated scheduling software available, we can map out small routes to boost our productivity levels. Our optimized routes allow us to divert crews when needed for quick service calls and other unplanned responses.
We reduce your risk through professional snow plowing and removal: Without a safe, open property, you can't be sure you're reducing your chance of liability for slip and fall incidents or vehicle accidents. For this reason, we always pick the right snow plowing machines for your individual residential or commercial site. Many municipalities insist that all property owners remove fallen snow within a specific time frame. Green & Black helps you remain compliant with ordinances.
Call Green & Black Snow Plowing Services in Minnesota
Wondering how you'll keep your walkways, parking lots and other spaces clear during and after the next snowstorm in Minnesota?
Get in touch with Green & Black. We offer professional snow plowing services and a host of other winter solutions, including commercial and residential snow removal services and ice management services.