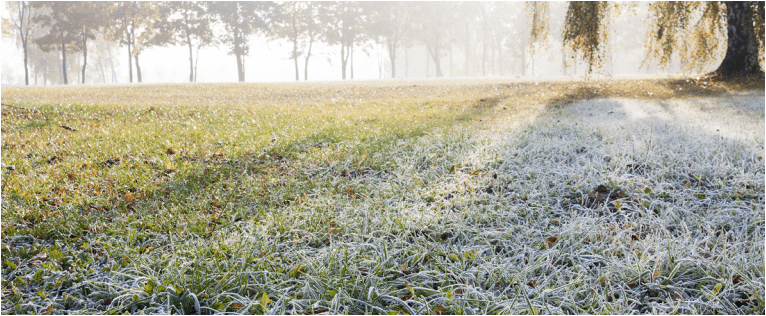 Home and business owners take advantage of the winter months to forget about their lawn care and landscaping. And rightfully so. Grass and typical garden flowers will not grow or receive proper nourishment during the coldest and shortest days of the year. However, it is important to prepare your lawn before that first frost for spring. Proper lawn maintenance and preparation in the winter will lead to a healthy and beautiful lawn in the spring.
Before the First Frost
Before the first frost is the best time to start preparations for winter. Typically this time of year, mid to late October through mid-November or even, in some areas, late December is the best time to fertilize your lawn. By fertilizing during late fall or early winter, right before the first frost, you are replacing valuable nutrients your lawn lost during the harsh summer months. Then, you are allowing the frost, snow, and cold, to act as a blanket to allow the nutrients to continue to flow throughout the harsh winter months.
Along with proper fertilization, remember to seed or sod your lawn to fix any problem areas. Doing so right before winter will help your lawn grow and be ready for spring.
Also, make sure you gradually cut your grass as short as possible prior to the beginning of winter. If it is done gradually, it will not be a shock to the lawn's system. Keeping it short will help deter rodents, vermin, and outside pests that are looking to make a warm bed in the cold winter. Short grass also protects your lawns new growth during the growing season. Remember, you can mow your lawn in any temperature until you see growth slow.
​Finally, remove all debris from your lawn, including leaves, lawn furniture, trash, and other items that are not grass or fertilizer. By keeping the lawn clean, you are allowing the lawn to soak in the needed nutrients of the fertilizer without any contamination from outside sources. This helps avoid ugly brown dead spots on your lawn in the spring.
During the Winter
Even though the grass is covered in snow or frost, it is important to remember to keep off the grass and walk on the walkways. Foot traffic can also leave dead spots and ruin an otherwise well prepared and winterized lawn. In order to aid in your guests' ability to stay off the lawn, always keep your walkways shoveled and ice free, thereby not making it difficult to walk on the sidewalk. Keep vehicles off your lawn as well, unless you want an unsightly lawn in the spring.
​When you are ready to winterize your lawn, give the professionals at Black and Green a call. We are happy to help you prepare your lawn to survive the winter and make the spring easier on you and your wallet. Our lawn care professionals are always willing to answer your questions and help you care for your lawn.
Call Anytime! 651-356-9193