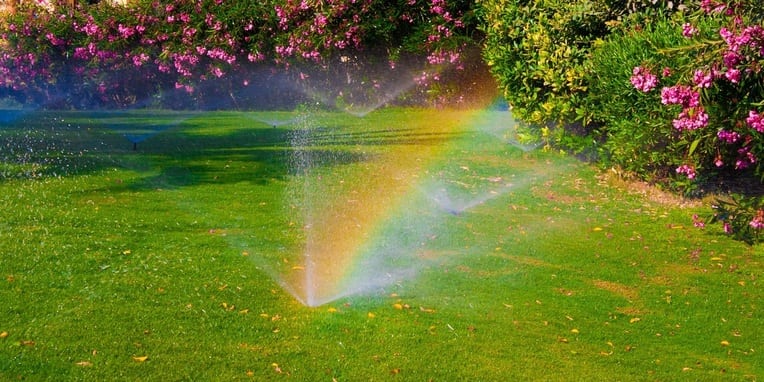 Anyone alive today will likely state that the weather is unpredictable. One day it is beautiful, sunny, and 80 degrees, and the next day it is snowing for hours. This past year, in particular, has seen extreme changes across the map. As a result, manually trying to not only seed your lawn and develop your landscape as well as maintaining and watering your yard has become a game of chess, in which you are constantly trying to determine Mother Nature's next move and stay a step ahead of dramatic weather changes. While a lawn irrigation system cannot help you determine when or how to plant your flowers, plants, and grass seeds, it can help you maintain your greenery without manual labor
How It Works
Unlike manual sprinklers, an irrigation system works to keep your greenery and lawn properly watered and maintained. A well-crafted system will take into account how your lawn is structured, where your greenery is placed, what type of greenery you have, as well as your climate. The installation, if done properly, will place sprinkler heads strategically throughout your lawn, avoiding any cable or phone wires buried throughout your lawn. Once installed, there are several features which allow for flawless, easy watering of your lawn as often as allowed and recommended. First, you have a timer, which can be set to go off at the same time for the same duration daily, every other day, or even twice a day, depending on your needs and your town's ordinances. Even more important that the timer, however, is the new addition of a rain sensor for your irrigation system, which allows your system to sense rain and automatically shut down during the rainfall.
​
The Benefits
Because the weather is so unpredictable and because we are all so very busy, if we want our lawns to maintain a beautiful, well maintained look and feel, and remain healthy for as long as possible, we often need a little help. A well-installed, properly maintained irrigation system can be that helping hand. Being on a timer allows it to water your lawn, even when you are away from home for the day or several weeks. As an added bonus, the system going off when you are away will give you the added security of appearing as though someone is home. Additionally, you will not have to worry about wasting water in the event of rain, since the system will turn itself off during a storm. Overall, an irrigation system helps you maintain your lawn's health throughout the life of the lawn, or at least the seasons your lawn is not hidden by snow and frost, without the element of surprise or human error becoming part of the factor. Once you hire the experts to set up the system and program it according to your needs and landscaper's recommendations, you can really just sit back and enjoy your lawn; until, of course, it's time to mow the grass.
To learn more about irrigation systems and their proper installation, contact the experts at Green & Black, LLC. at 651-356-9193.